Anna Schaarschmidt 1891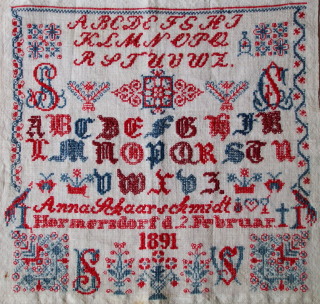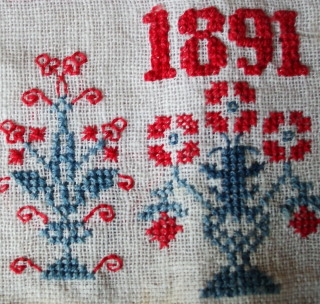 Anna Schaarschmidt's unusual sampler is part of the school sampler collection of Elske van Kammen from the Netherlands. I was very interested in the presentation of my customer's piece here, because I found Anna's sampler fascinating. Elske took many fantastic photos in detail and chose the appropriate colours from colours suggested by me. A perfect cooperation – wonderful!
The Schaarschmidt family lived in Hormersdorf, a village in Erzgebirge or Ore Mountains, a mountain range in Saxony and one of the poorest regions in Germany at that time. Throughout the world, the Erzgebirge has been famous for the production of neat wooden toys for one hundred years.
Anna skilfully placed three different kinds of stitches on her sampler: in the nice large corner motifs, in the borders, in the flower jars and in the elaborate alphabet in the sampler's central section. Four intricate monograms display the turn of the century taste – the Art Nouveau.
Price:
chart: € 10.-
Crosses: 185 x 178
Size: 26 x 25 cm
Stitches:
cross stitch
square stitch
back stitch