Anna Roenneke ca. 1900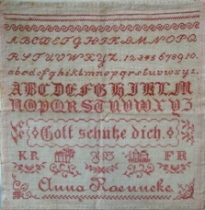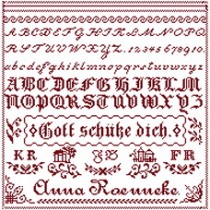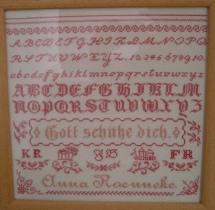 I immediately discovered Anna's sampler on the large sampler wall during my visit to the exhibition "Die gestickte Welt – Alte und neue Stickmuster" (Oct. / Nov. 2010) at Merseburg Castle because of its unusual embroidered wish "Gott schütze dich". On the left and on the right, Anna placed the initials of her parents and probably her teacher's initials in the central section. The stylized motifs – a tiny temple, a village scene –, the corner motifs and plants make her sampler a nicely composed school exercise in cross-stitch.
Anna Roenneke's school sampler belongs to the large sampler collection of Kulturhistorisches Museum Schloss Merseburg and has the inventory number 9/656.
Prices:
chart: € 10.-
Crosses: 189 x 191
Size: 34.5 cm x 35 cm
Stitches:
cross stitch